Gates and Garage Doors
Quality Gates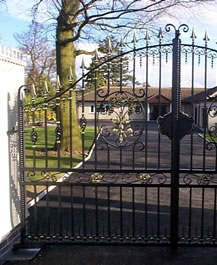 Style and Security For Your Home
A high-quality automated entrance gate or garage door is an excellent way to add security and privacy to your home, yet there is no reason why they cannot also look attractive.  Remember, the entrance to your property is the first thing people see when they arrive and the last thing they see when they leave!  Our automated gate and garage door systems offer the perfect blend of beauty and protection.
Making Life Easier
Are you tired of getting soaked when you get out of the car in the rain to open your gate or garage door?  Or do you worry about who or what could be lurking in the shadows late at night?  With our automated solutions, your gate or garage door will open at the touch of a button from the safety and comfort of your car.
Peace of Mind
It's only natural to want to protect your family and property from intruders and unwanted visitors.  Or perhaps you have young children and want to ensure that they do not have access to the road.  Our automated gate and garage door systems can help.  Using an intercom system, you can ensure that the only people who come through your gates are those you want.  And your children will be kept safely inside, away from danger.
The Complete Solution
You will not need to worry about installation with our automated gate and garage door systems.  Our team of experts have many years of experience fitting these systems and will handle every aspect of installation, meaning you don't have to do a thing.